BINGO Racing and Callaway Competition Historic Victory in Race 1 of Fanatec GT World Challenge Asia at Fuji
Press Release
BINGO Racing and Callaway Competition Historic Victory in GT World Challenge Asia Race 1 at Fuji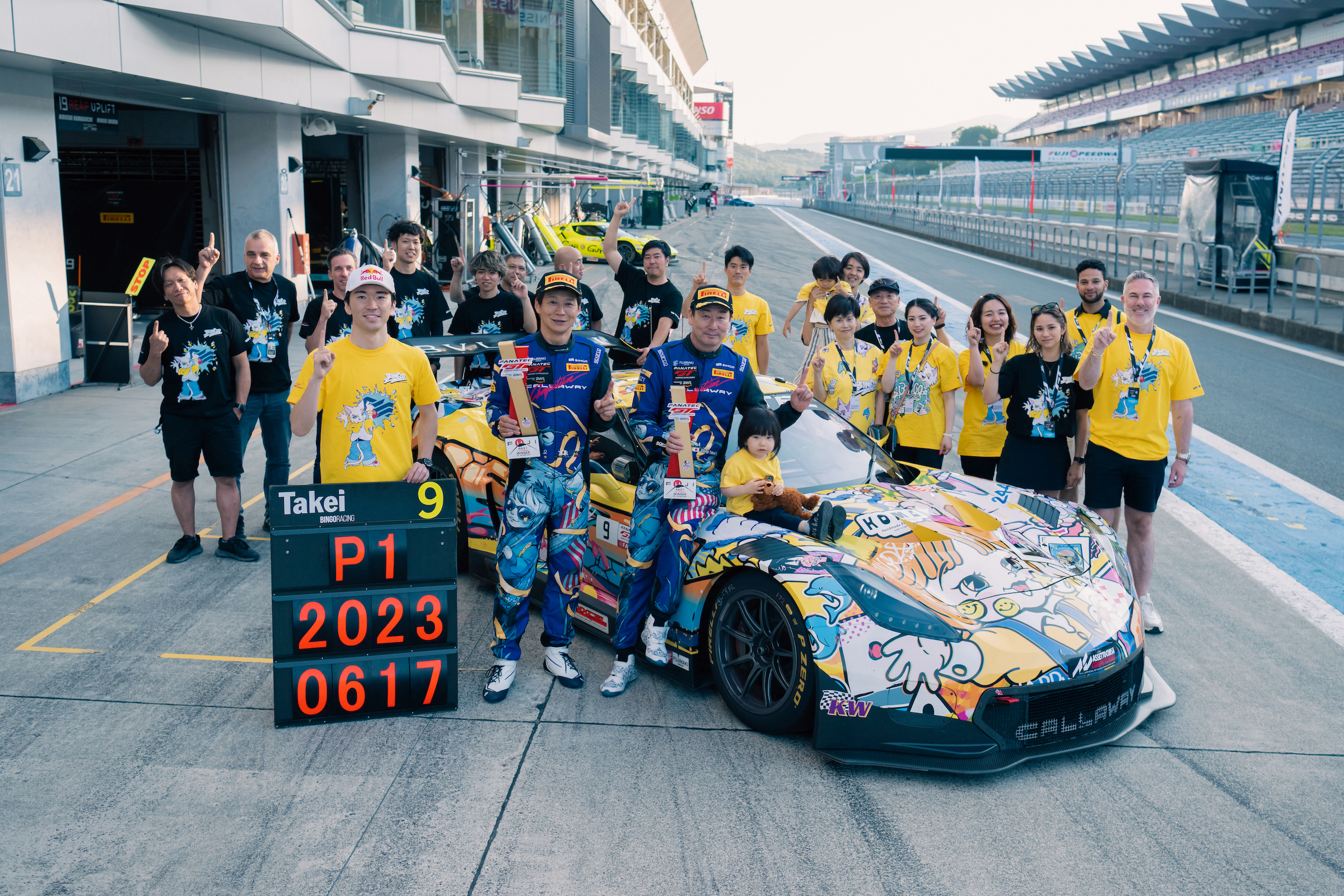 BINGO Racing's Shinji Takei and Akira Iida, together with Callaway Competition, made history by clinching a sensational victory in Race 1 of the Fanatec GT World Challenge Asia Powered by AWS at the Fuji International Speedway on June 17th, 2023. From a grid of 40 cars including active factory drivers, Takei and Akira pulled off a win in the ProAm class and overall.
The C7 GT3-R is established as among the most successful GT3 cars, winning multiple races and championship titles in different series. However, this was the first win for the C7 in an SRO event.
During Qualifying for Race 1 earlier on in the day, Takei scored the fastest lap in the Pro Am class, resulting in the #9 Corvette GT3-R starting on pole position for the Pro Am class, 3rd overall behind two Silver class cars. However, #87 R&B Racing Porsche 911 GT3 R, which was the original pole sitter courtesy of Leo Ye Hongli, was handed a 5-place grid drop penalty carried over from from the previous race in Buriram. With this, Takei started Race 1 on the front row next to the #87 Audi R8 LMS GT3 of Phantom Pro Racing with Ling Kang behind the wheel.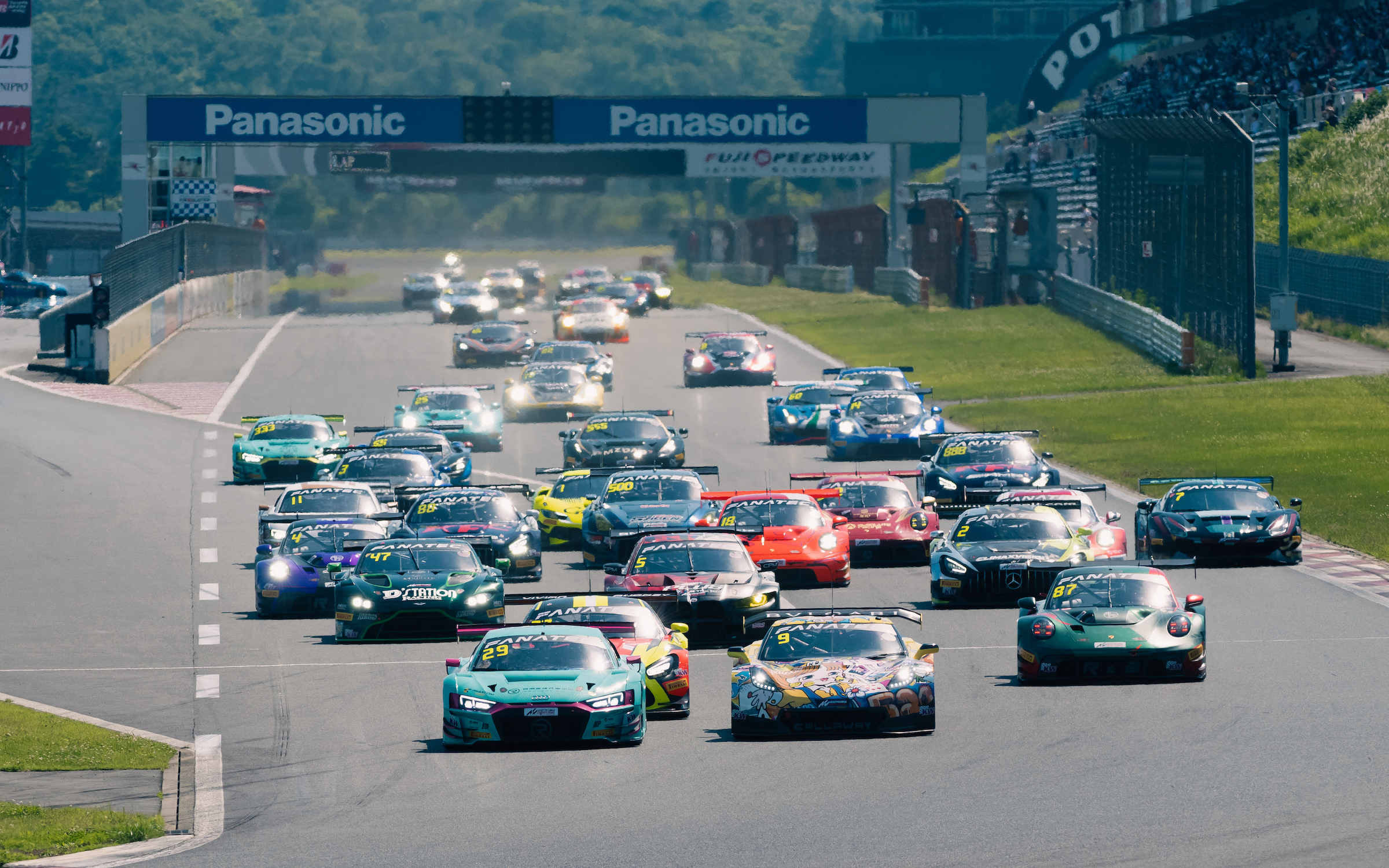 Takei had a rough start in the first few laps, running behind Anthony Liu piloting the #37 Craft Bamboo Racing Mercedes-AMG GT3. When the pit window opened, Takei swapped with Iida for the next stint. As Iida started his first stint, the leading car #87 911 GT3 R went for a late pit stop after electing to keep its starting driver out. However, the cars that pitted earlier benefitted from the fresh rubber, enabling them to undercut #87.
Additionally, #37 Craft Bamboo had a 15-second Success Penalty, earned by winning Race 2 in Buriram. As a result, the #9 BINGO Racing car took the lead. 
However, Iida faced a great challenge against Tomonobu Fujii in the #47 Vantage GT3 of D'station Racing. The #47 car started sixth with Satoshi Hoshino at the wheel. When Fujii took over from Hoshino, he went full charge,passing several cars. However, D'station was handed a stop-and-go penalty for not meeting the minimum pit stop time by 0.019 seconds.
With this chance, Iida managed to extend his lead by 5 seconds against the top GT3 drivers, most of whom are professional drivers.. A truly impressive feat for the 2002 SUPER GT GT500 Champion, as this was Iida's first competitive race in five years.
Other competitors were mounting pressure towards the Corvette GT3-R, with Dennis Olsen in the #4 R&B Racing Porsche bringing the pace until he was caught up by Dennis Lind in the #2 Climax Racing AMG-GT3, Alessio Picariello in the #911 Absolute Racing 911 GT3 R, Yuta Kamimura in the #16 Porsche Center Okazaki 911 GT3 R and Daniel Juncadella in the Craft Bamboo, who were battling hard for 2nd place. Iida took the chequered flag after one hour and 33 laps, with Picariello and Vutthikhorn Inthraphuvasak finishing in second for #911 Absolute Racing Porsche. Picariello's progress for that position blocked any other contenders that could have challenged Iida. And competing the overall podium is #4 R&B Racing Porsche with Olsen and Wei Lu. This resulted in a Porsche 2-3, with Callaway Competition's Fuji winning among the most famous victories in the Fanatec World GT Challenge Asia series.
Ernst Woehr, Director of Callaway Competition GmbH commented:
We at Callaway Competition are all very pleased and extremely proud about the accomplishment of Shinji Takei, his co-driver Akira Iida and the BINGO Racing Team last Saturday at Fuji Speedway.
It is amazing and surprising how this team performed, after not doing so many races together.
The Callaway Corvette C7 GT3-R is not the most modern car in the field, but is still competitive. It shows that a well-prepared car and team with the correct attitude can outperform some of the best in the world in GT racing.
Shinji Takei, Driver of #9 BINGO Racing Corvette GT3-R and CEO of BINGO Co., Ltd.:
The race was truly a historical moment not only for us at BINGO, but also for Callaway Competition and Akira. I want to give a big thank you to Ernst and his team at Callaway Competition, who did a fantastic job supporting the preparation of the C7 GT-3R for the race at Fuji.s. Despite running a car that is considered among the last "boutique" GT3 cars, we are still able to be competitive, the strategy worked well and I am very happy to have finished with the win.
This car is my favourite to race and I am very happy to have had a great event.