The BINGO Guide to Tokyo's Car Scene
Blogpost
The Japanese government finally lifted the COVID entry restrictions for all visitors in October 2022, so 2023 is a prime time to travel to Japan again. While Tokyo may be renowned for its food, technology, and even anime, its rich and diverse automotive scene has drawn car enthusiasts from all over the world for decades. Even a casual spotter can find rarities from all genres – JDM classics, European exotics, and the occasional American lowriders. This is BINGO's master list for the best places to go car spotting on your trip.
Daikoku Parking Area
We start off with the most famous of them all, the Daikoku Parking Area (PA). It is a parking area situated on a man-made island near Yokohama, and is typically a resting place for those on long drives, particularly bus and truck drivers, with a konbini (Convenience Store), restaurants and souvenir shops. However, it moonlights as a popular spot amongst car enthusiasts wanting to demonstrate their true passion for their rides. What makes Daikoku PA unique is that there are no official events planned, so you never know what you might see. 
The only way to get to the elusive parking area is in a car or on a motorbike, as entering on foot is prohibited. While you can get there from central Tokyo in a taxi, it can be difficult to find your way back, particularly late at night. The best way would be hitch a ride with a car-owning friend or by renting a car.
Another important consideration is when to visit. While there are no official events, there is a rough schedule for when what cars show up.. For JDM fans, the best time to go would be on a Friday or Saturday night, from 8/9pm onwards, as that is when many owners of classic JDM and other modified cars stop by to start their night drives.  Another reliable time to go is early on Sunday mornings, around 9am, as various classics and rare cars show up to the parking area.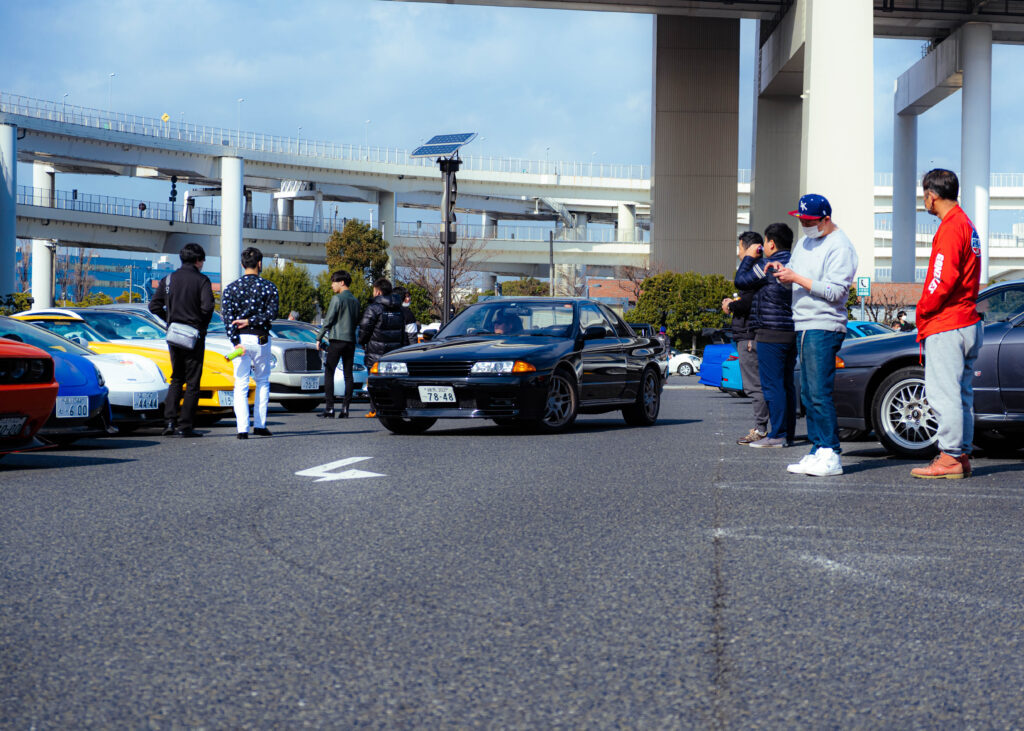 Tatsumi Parking Area
Tatsumi PA is another parking area that is popular for a hang-out for car owners. The main parking area is "Tatsumi No.1 PA," located on Route 9, a short 10-minute drive from central Tokyo. A popular route is to drive from Tatsumi, around the C1 Inner Loop and return to the PA, sometimes many times over. While the parking area itself is smaller than Daikoku, Tatsumi offers breathtaking views of the Tokyo skyline from the artificial island of Ariake in Koto-ku. 
Just like Daikoku PA, Tatsumi PA cannot be entered on foot despite the proximity of Tatsumi Station. The best time to visit would be in the evenings on Friday, Saturday, and Sunday, where JDM and European exotic cars make several appearances. If you can wake up early, Sunday mornings usually draw a good crowd too.
The parking area exit became famous as many car owners would go full-send through the exit, so much so that a speed ramp was installed to discourage the drivers.  Perhaps unsurprisingly, this didn't deter all drivers, with many continuing just as hard on the acceleration and getting some air on the new ramp.
Featured image by Maliqal Fadli Akbar (@maliqalfakbar)
Meiji Jingu Gaien
Meiji Jingu Gaien is an outdoor complex that features the famous Jingu Gaien Ginkgo Avenue, a long stretch of tree-lined road linked to Route 246. This may be a familiar name to Gran Turismo fans, as this part of the road was featured in the game. The real deal is a must-see for car enthusiasts.
The avenue is a great place for car spotters and enthusiasts to witness classic cars and supercars doing pulls and revs, and if you're lucky, you can even spot rare hypercars (perhaps a famous turquoise and gold 1 of 3 Agera RSR, for example) charging down Route 246. The area itself is also close to various sporting facilities, such as the Japan National Stadium that hosted the 2020 Tokyo Olympics and the Meiji Jingu Stadium, home of the Yakult Swallows baseball team.
Unlike Daikoku and Tatsumi PAs, you can easily get to Meiji Jingu Gaien as it is a few minutes walk from either Gaienmae (Ginza Line) or Aoyama-Itchome stations (Ginza, Hanzomon, Oedo Lines). Gaienmae Station is closer to Jingu Gaien Ginkgo Avenue. The best time to go is on a Sunday morning from 8am onwards.

Daikanyama T-Site
The Daikanyama T-Site complex first opened a decade ago, and is located a short 5-minute walk from Daikanyama Station on the Tokyu Toyoko Line. The Site became popular for its cars & coffee events, known as the Morning Cruise. This event is usually held every 2nd Sunday of the month and with the cars changing depending on the theme of the event. You can find out what the theme for the upcoming events are on their Instagram (@daikanyama.cars), the page is all in Japanese so may require some Google Translating. Among the rarest cars to show up for the Morning Cruise was the Nissan GT-R50 by Italdesign prototype, which later made an appearance at the original BINGO Sports Tokyo Showroom. 
Even if your trip does not coincide with a Morning Cruise event, it is still worth having a look and seeing what may be parked outside. There is also a Tsutaya bookstore inside the building, which has an extensive car section where you can browse through the latest books and magazines, as well as collectible editions about your favorite car or manufacturer, and vintage car brochures and magazines, such as Car Graphic and Car Styling.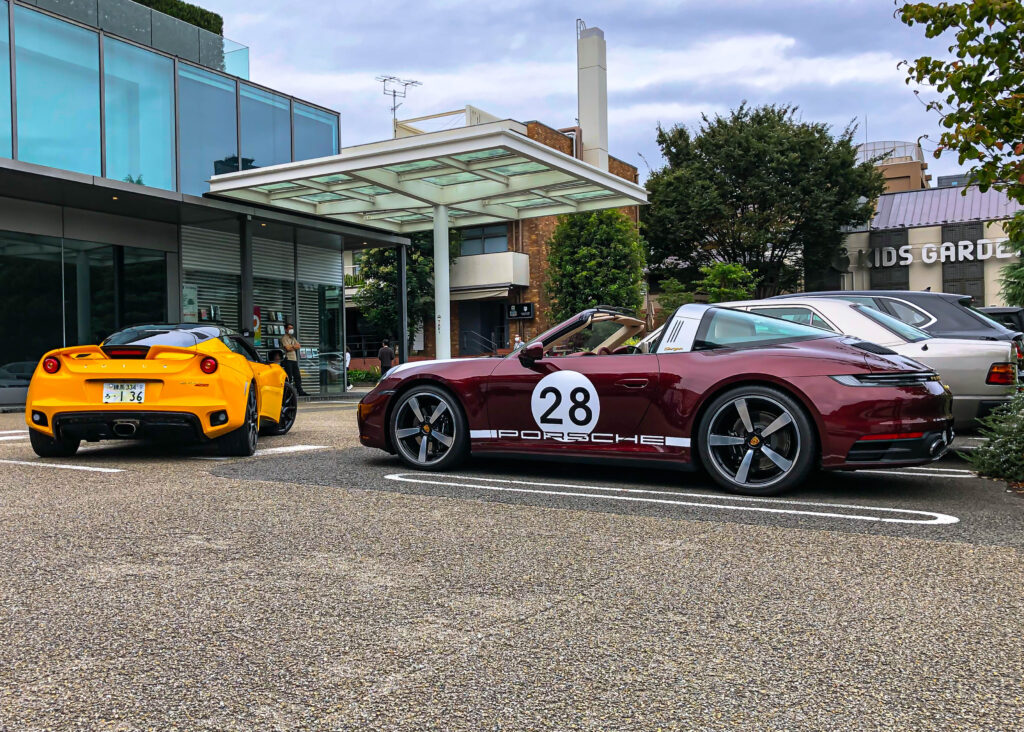 Akihabara
Akihabara may be famous for electronics and anime, but it also has a vibrant car scene as it is popular amongst JDM owners. One of the popular places for car-spotting in Akihabara is the UDX Parking Garage, which is an underground parking garage where passionate car owners and enthusiasts gather together for an underground meet. These events attract a wide variety of cars and spectators.
Recently, BINGO participated in the car scene of Akihabara by bringing out the Koenig Specials Testarossa and the Nissan GT-R NISMO N-Attack Package A Kit for a photoshoot and spin around the block.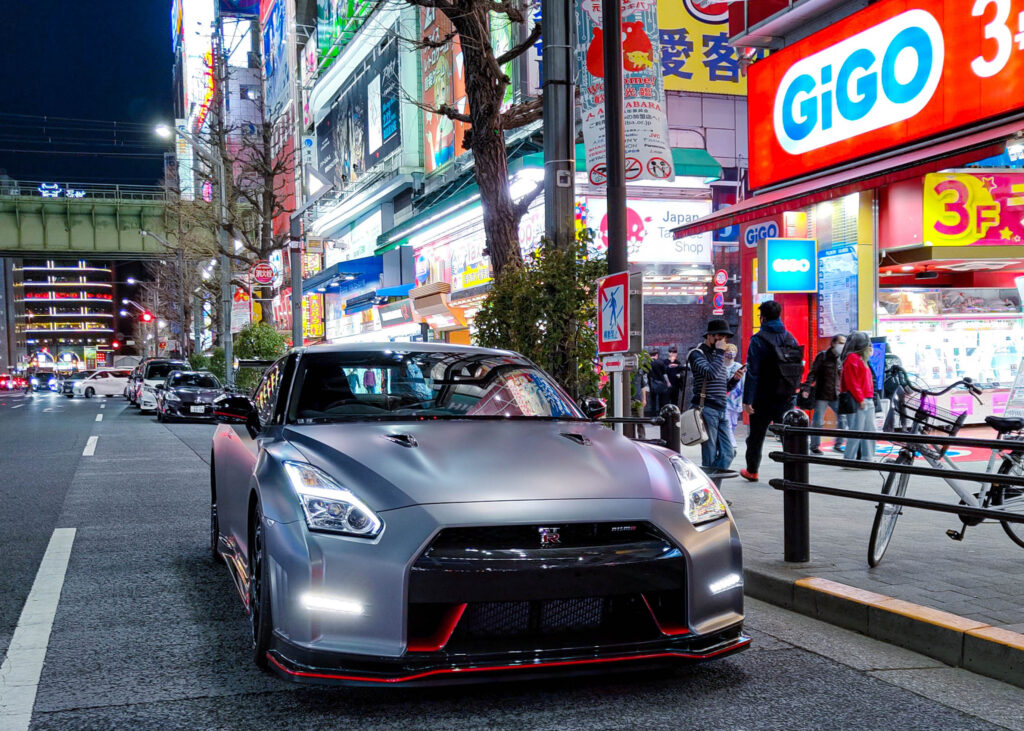 A PIT Autobacs Shinonome
A PIT Autobacs Shinonome is Autobacs's flagship store. It is a 6-minute walk from Shinonome Station, where you'll find a 3-story complex that houses a massive service center and an aftermarket parts store. What makes the A PIT Autobacs Shinonome unique from other service centers is the Starbucks shop and Tsutaya bookstore inside, which is a great place to relax or browse your favorite car magazines and books.
Just like the Daikanyama T-Site, A PIT Autobacs Shinonome hosts their own cars & coffee meet called Morning Meeting, which is held every 3rd Sunday morning of the month and takes place in the parking lot of the complex.You can find out what the theme for the upcoming events are on their Instagram (@daikanyama.cars), the page is all in Japanese so may require some Google Translating.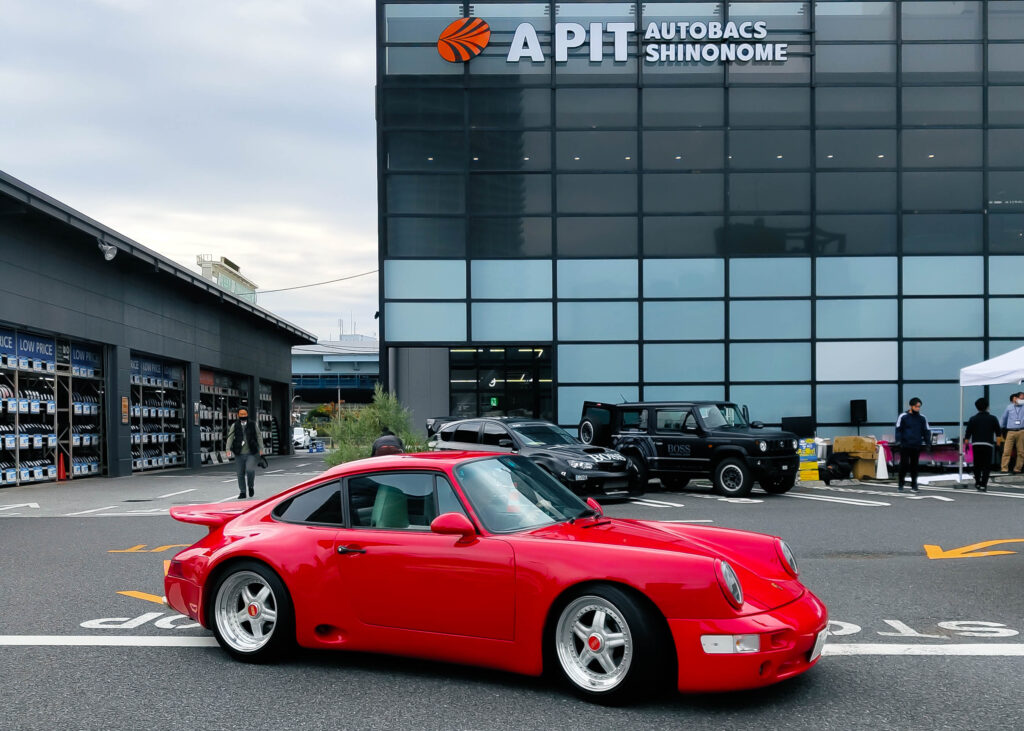 __________
By Gen Flauta