Koenig Specials
Blogpost
Koenig Specials is a tuning company from Germany that has cemented its status as a leading creator of the most extreme and unique modified exotic cars the world has ever seen.
The company was founded in 1974 by Willy König, who made his fortune in magazine publishing. König also took part in motorsport, among his achievements was winning the 1962 German Hillclimb Championship in a Ferrari 250 GT SWB Berlinetta. This victory led to Enzo Ferrari hosting an event in Maranello in König's honour.
After racing in numerous categories, König toyed with the idea of building a race car for the road. Therefore, he bought one of the first Ferrari 512BBs in West Germany, chassis "07899". König wasn't satisfied with how the car performed and sounded, especially when compared to the plethora of race cars he had driven in the past, such as the Lola T70, Ford GT40 and even the Ferrari 275 GTB Competizione, to name a few. As a result, he decided to modify the car to his own liking, by adding a turbocharger onto the 512BB's flat-12 engine, which increased its output to 415 hp, accompanied by a beefier suspension, wider tires, all wrapped in a widebody kit with a large wing to achieve the top speed he desired. 
When he started to attend Ferrari meets and track days, other owners began to notice how fast his modified 512BB can go, and many owners requested one like his. This is where the story of the iconic German tuner begins as König decided to turn his hobby into a business in 1977. However, due to the existence of a German dealer Auto-König, specialising in Ferraris, König anglicised his name and so became Koenig Specials. 
While the company focused on modifying Ferrari models in the beginning, they later expanded to modifying exotic cars from other brands, such as Mercedes-Benz, Jaguar, and Porsche. It did not take long for the company to achieve success, as König had a clear vision for the company: "create the ultimate sports car for public roads". Koenig's foundation was perfectly timed, as the German economy began to take off during the 1970s and 1980s. However, Koenig Specials' popularity grew mostly in Japan, as the economy was booming during the 1980s, which resulted in a strong demand from wealthy Japanese buyers that were keen to take their imported exotic cars to the extreme.  
Koenig Specials may have enjoyed fame and fortune as a tuning business, especially with a number of celebrities that have owned a Koenig Specials model including Mike Tyson and Sylvester Stallone. However, it was not without criticism, particularly from the people in Maranello. Koenig's flamboyant styling with seriously wild numbers even angered Enzo Ferrari himself, who threatened to launch a lawsuit against the Munich-based tuning company. In order for König to prevent this from happening, he replaced the badges of all tuned Ferrari models, including an F50, with the letters "KS", denoting that they have received the Koenig Specials treatment.
Today, Koenig Specials is still active in the business, except they only make car parts for certain Ferrari models instead of the bodykits that made them legendary. Despite this, the company's legacy lives on and is still loved among enthusiasts, including the younger generation. In fact, many Koenig Specials can still be spotted around Japan, as it used to be the biggest market. Among the cars in Japan is the Koenig Specials Twin-Turbo Testarossa from the BINGO Collection, which received a lot of attention during our photo shoot in Akihabara. Other models still manage to steal the spotlight on the internet regularly, such as a red Koenig Specials KS8 formerly owned by Nikodem 'Niko' Skotarczak, a notorious Polish gangster. Based on the E31 BMW 850, it had been hidden in an underground parking lot in Germany for nearly 10 years, until it was discovered by Sira Car Collector and Tahmid's Collection. They later bought the car and it is set to be fully restored to its original glory by next year.
We proudly present to you two Koenig Specials that are a part of BINGO, one of which was sold at our auction during the 2019 Tokyo Auto Salon.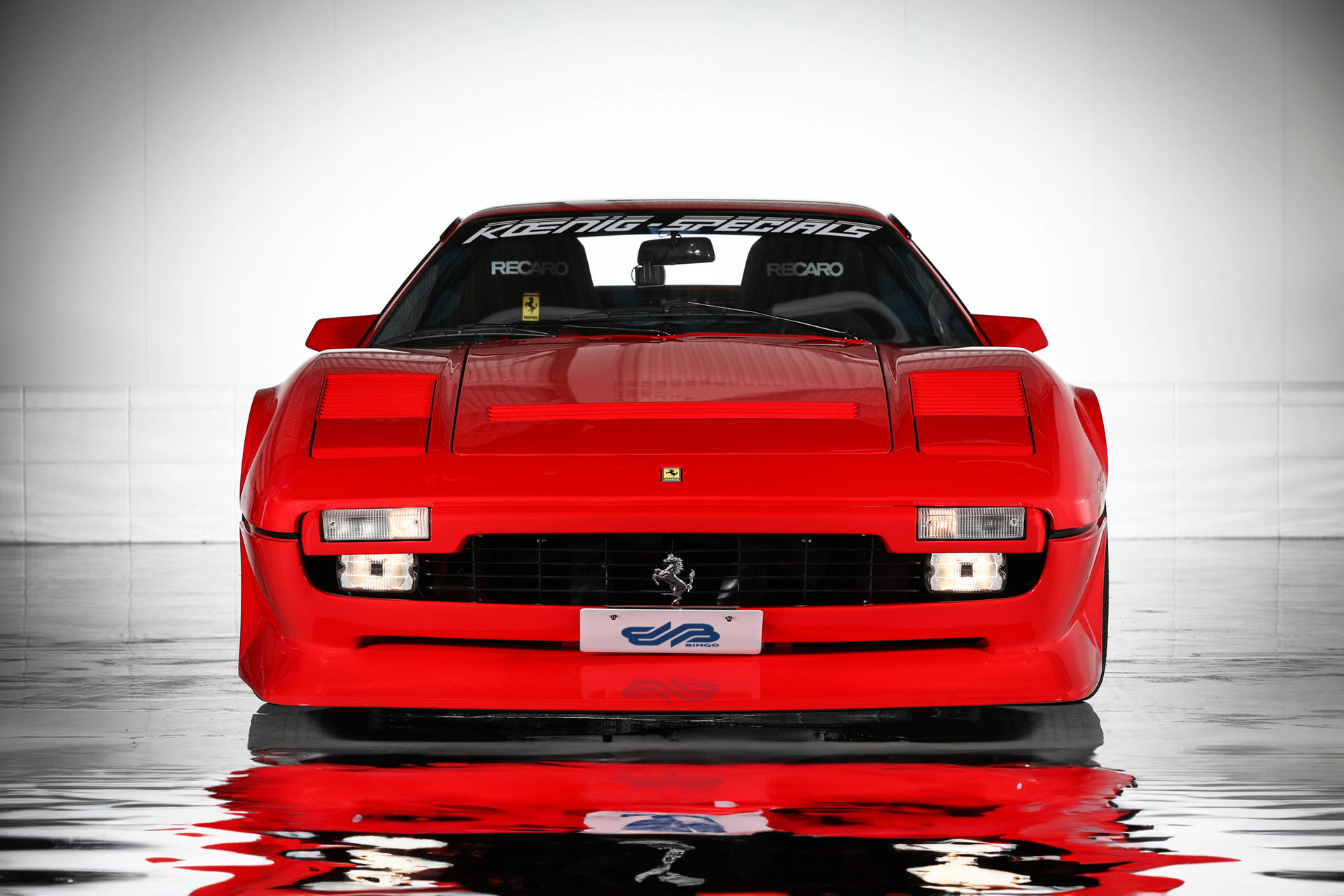 1985 Ferrari 308 Koenig Specials
Based on the 308 GTB Quattrovalvole, it is among the rarest Ferrari models to receive a Koenig Specials treatment, one of only 50 examples ever built by the Munich-based tuner. 
Just like the other Koenig Specials models, the 308 received numerous modifications, with the focus on going fast. Among the notable modifications were a widebody kit, aero mirror wings and spoilers, and a huge chin. The cosmetic enhancements are complemented by the mechanical upgrades, such as a turbocharger and an intercooler, along with in-house camshafts and forged pistons. Buyers had a choice of upgrading their 308 to either 350 hp or 400 hp.
This example is chassis "KSF W00 0J011". The performance enhancements include a stainless steel sports exhaust, sports suspension and Super Performance braking system. Along with the bodykit, this example is wrapped with Panasport Racing Wheels and a replica Recaro seats. This 308 Koenig Special had been fully maintained by a Ferrari specialist and was in excellent condition. What's also interesting about the car is that it also includes a suitcase made of carbon fibre from the (SN.40/50). It made its appearance at the 2019 Tokyo Auto Salon auction, where it was sold with a hammer price of ¥14,040,000.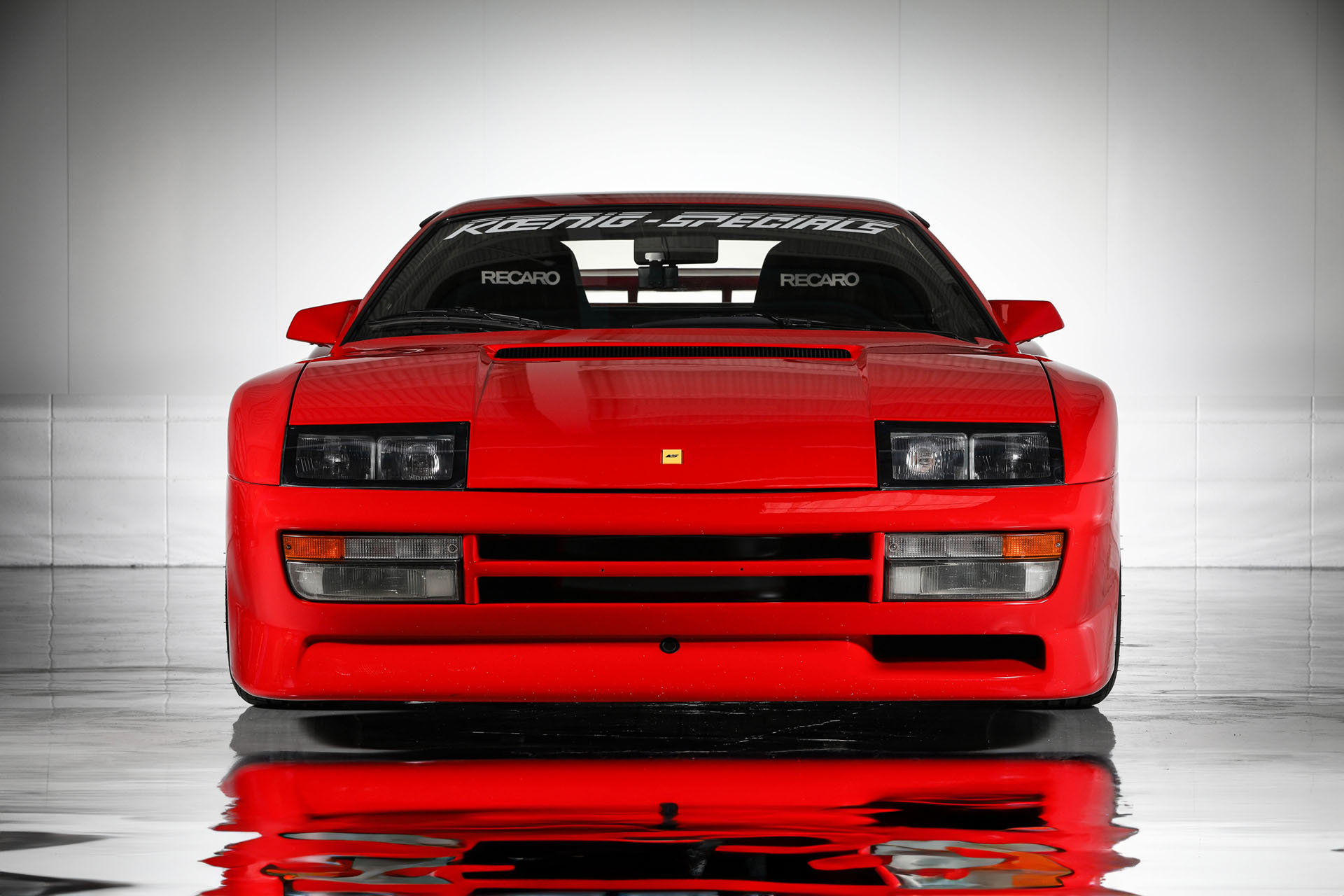 1987 Ferrari Testarossa Koenig Specials
The Ferrari Testarossa Koenig Specials is a limited edition, high-performance sports car built by German tuning company Koenig Specials. The Ferrari Testarossa was unveiled at the 1984 Geneva Motor Show, as the direct successor to the 512BBi. Koenig Specials began tuning Ferraris with the 512BB, which kickstarted their success as a legendary tuner from Munich. Therefore, it was fitting for Koenig to start modifying Testarossas. 
Almost anything was possible when it came to the list of upgrades owners could include in their own Testarossa. Among the options were upgrading to a racing suspension and brakes, gold BBS wheels, a Spider conversion, to name a few. The initial tune for the Testarossa is a twin-turbo 4.9-litre flat-12 engine setup that provides an output of 700 hp, complemented by the braced KKK turbochargers and a re-mapped Motronic engine management by Bosch. However, owners could opt to upgrade to the Koenig Competition with 1000 hp, or the Koenig Evolution with 1200 hp, both of which are mind-blowing for the 1980s. The power output changes to the engine were made possible by simply adjusting the boost pressure through the car's dial on the centre console. 
This example is the TRF chassis 001, based on the 1987 model year of the Testarossa. Chassis 001 was originally delivered to Car Craft, the official importer and dealer of Koenig Specials in Japan. The initial specification of the 001 was a 4.9-liter twin-turbo flat-12 unit with 700 hp, mated to a five-speed manual transmission, before it received another upgrade to 800hp. It features a widebody design, with flared fenders and an aerodynamic body kit, significantly different from the original Testarossa.
The twin-turbo setup of the 001 was made possible with the magic of Franz Albert, an Austrian engine tuner, while the engine management was commissioned to Lotec. Lotec is also the same company that developed the M117-powered C1000 with 1,000hp.
The Testarossa's radically wild bodywork was moulded in carbon kevlar (fibreglass) panels, reminiscent of the Ferrari F40. This created a strong visual impact with a unique aura, especially considering how loud the car's exhaust is. 
The car also has the original gold BBS centre-lock wheels, complete with a case made out of carbon fibre (SN.001). Nothing gets more wild than these. 
Apart from the engine upgrades, the exhaust muffler and oil catch tank were modified and  Recaro bucket seats and a fire extinguishing system were added to the interior. 
The Koenig Specials Testarossa 001 is currently part of the BINGO Collection.